Support this important work by making a contribution to help us reach out. With your help, we'll continue to record stories of hope, generosity, faith, conviction, and progress. Even a small amount can make a big difference — just like sharing your single story can affect thousands of others.
We're Democrats after all; we believe people should be paid for their work. Help us make and edit more videos. Contribute so we can keep our site active and agile. Let us know what features YOU want; send an email to features@whyimademocrat.org.
Contribute ONLINE
You can make contributions online with a credit card using ActBlue.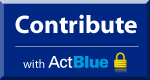 Contribute By Check
If you want to contribute to Why I'm a Democrat by check, simply download and fill out the PDF form and include it with your check made out to Why I'm a Democrat.
Send the check and form to: